4

good reasons to stay with us
A warm welcome and the best tips
on what is going on in Rio
A dance ring of samba or choro? A night of forró? A typical restaurant? A good walk? A visit to the favela? Whatever you are looking for, we are here to offer you the support you will need when visiting the city. We know every corner of Rio and we can help you experience the city in a practical, safe and enriching way.
An ideal
location
Casa da Gente is just a few steps away from four different neighborhoods of the Cidade Maravilhosa (the "Marvelous City", as the saying goes). Regardless of whether you are here on vacation or for work, it is the perfect place for you to get around quickly.

Save time and money
by doing everything on foot!
A quiet and
friendly home
A relaxed atmosphere in a beautiful neighborhood, with a spectacular view over Rio and the Guanabara Bay. Enjoy the sun on the terrace while having breakfast, read a good book, answer your emails, take a sip of a good caipirinha...
An eco-responsible
approach
Solar energy, rainwater use, composting, vegetalized roof… We have all of those, but not only! We also have close links with our suppliers, fair prices and natural food.
The people of the house ("a Gente da Casa")
Our team is made up of a charming all-female and multicultural mix.
Pauline, the French
She created Casa da Gente, giving it style and soul. Now, she lives in France, but regularly returns to the Casa da Gente.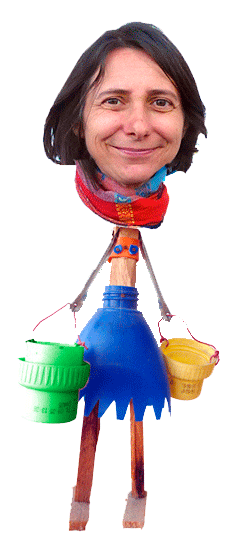 Barbara, the Argentinean
She is the manager, but also a yoga teacher, passionate about all kinds of dances, and the creator of beautiful handmade notebooks.

Glaucia, the Brazilian
She is responsible for the organization of the House. You will never find her in a bad mood! She prepares the best breakfast around, and keeps the house clean and comfortable.

Beleza (Beauty), the cat
Yes, we have a cat. She actually lives in our neighbor's house, but she often comes to our living room and garden to keep us company.